When the days get cold, and the vegetables are delicious, it's time to make a stew!
Ingredients:
1 cup wild rice
6 cups chicken or vegetable broth (used water and 2 tsp chicken stock and 2 tsp mushroom stock)
5 strips of thick bacon cut into 1/2″ chunks
1 butterflied boneless pork loin chop cut into 1″ chunks
2 medium leeks, cleaned and chopped coarse
8 oz. baby bella mushrooms, chunked
1 Tbls finely chopped garlic
1 Tbls dried tarragon
1 teaspoon dried thyme
1 tsp coarse ground black pepper
1/2 tsp cayenne
4 tbsp flour
1 cup chardonnay
1 bunch thin asparagus, cut into 1″ segments
2/3 cup heavy whipping cream
Directions:
Combine wild rice and broth in a medium pot. Bring to a boil, then lower heat to simmer. Cook rice until tender. This will take approximately 45 minutes.
In a large pot, cook bacon over medium heat until well done. Removed bacon and set aside. Add the pork to the bacon grease and cook for a few minutes until opaque.
Add button mushrooms and leek.  Stir occasionally until the mushrooms soften and create a liquid, about 10 minutes. Add the garlic and other spices and cook a few more minutes. This allows the garlic to cook, but not brown and become bitter.
Sprinkle vegetables and pork with flour and cook, stirring constantly, until flour starts thicken. Make sure that you are scraping the bottom of the pan.  Add wine along with the cooked rice and broth.
Bring to a boil,  add the asparagus, then reduce the heat and simmer for 15 minutes.
Stir in cream and cook until thoroughly heated, about 1 minute.
Serve with a garlic bread and enjoy!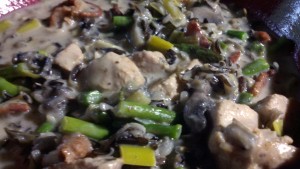 Post a comment
You must be logged in to post a comment.