Oven Popover (Dutch Baby)
This is my family's favorite breakfast dish. I love it because it's quick to prepare, isn't very messy, I usually have all the ingredients on hand, and it tastes outrageously delicious.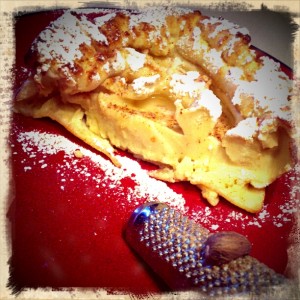 Ingredients:
| | | | |
| --- | --- | --- | --- |
| Pan Size | Butter | Eggs | Milk & Flour |
| 2 to 3 qt | ¼ cup | 3 | ¾ cup each |
| 3 to 4 qt | ⅓ cup | 4 | 1 cup each |
| 4 to 4½ qt | ½ cup | 5 | 1¼ cup each |
| 4½ to 5 qt | ½ cup | 6 | 1½ cup each |
Directions:
Choose your pan carefully. It has to be oven proof and shape will affect the texture. I have a 4 qt pyrex round souffle dish that I always use for this recipe. A paella pan, big frying pan, or large baking dish are best.
Place the butter in the pan and place into oven and preheat to 425ºF.
The butter will melt as the oven preheats, which is crucial. You need to prepare the rest of the recipe in the time it takes to preheat the oven.
Put eggs in a large bowl or mixing cup and blend on high for 1 minute.
Use a bowl from which you can easily pour the finished batter.
I get the best, fluffiest results when I use a stick blender. A food processor or blender are acceptable. Hand mixers just don't work as well and your finished dish will not be fluffy.
Gradually add your milk, then slowly add the flour until incorporated. Blend for an additional 30 seconds.
When the oven is preheated, pour the batter into the center of the hot pan, scraping the side of the bowl to get all the batter into the pan.
Do this as quickly as you can so that the pan retains the heat. I do this by sliding the rack out of the oven and pouring while the pan is on the rack. If you take the pan out of the oven, do it carefully and keep the oven door closed to keep the heat in.
Let cook for 20 to 25 minutes. A knife inserted in the middle should come out clean and the edges should be a toasty brown.
Cut immediately and serve. This dish will settle some as it cools.
Our favorite way to serve this dish is to grate some fresh nutmeg over the pancake, then dust with powdered sugar and a squeeze of lemon.
Post a comment
You must be logged in to post a comment.