Recent Recipes
Comments (0) | September 21, 2008
Another Farmer's Market haul of fantastic goodies inspired me to make this soup. After tasting it, I started inviting friends over. It was so good that my husband bought me a pressure canner and we made another batch to get us through the winter. This has now become a yearly event for us. It's just […]
Comments (0) | April 27, 2007
I used to make cornbread from scratch, and then my husband convinced me to take the easy way out and buy the Jiffy mix, which he grew up loving. I developed a taste for it, so I hadn't made cornbread from scratch again. Until tonight (April, 2007 and we've been married 18 years), that is. I made a really nice chili-mac for dinner and wanted corn bread, but with the rain, I didn't feel like running out to the store. So I searched the cupboard, and found I had everything here to make my own. Since the recipe on the carton was very bland to us, I decided to make some alterations and was told that this was "the best corn bread you've ever made!"
Comments (0) | February 26, 2007
Today we bundled up, stoked the fire, and prepared for what they promised would be the ice and snow storm of winter. With some foresight, my husband and I made the excursion to the local farmer's market for root vegetables and chickens. We also found a woman selling Amish made pasta called Pot Pie Pasta. They were thick and square cut and made me want to create a thick chicken stew to showcase them. Among the stands of vegetables, we found a basket of firm, plump jalapeno peppers, carrots and sweet onions. We also nabbed a late season sweet potato that had to have easily weighed 2 lbs. A plan was coming together! A loaf of Challah and we were set!
Comments (0) | December 23, 2006
This incredibly flavorful treat came as a last minute inspiration while trying to come up with a vegetarian friendly filling for a crescent roll wreath I learned to make at a Pampered Chef party.
Comments (0) | November 13, 2006
These thumbprint cookies make perfect appetizers because they blend savory and sweet flavors. The cornmeal adds a fabulous, unexpected texture. I discovered that sage and fruit go together to make dishes exotic and delicious. I've combined sage with peaches, black raspberry, blackberries, and cherries with much appreciation!
Comments (0) | November 13, 2006
This dish allows you to make tasty appetizers and, with little effort, additional light little crackers that can be used in the presentation.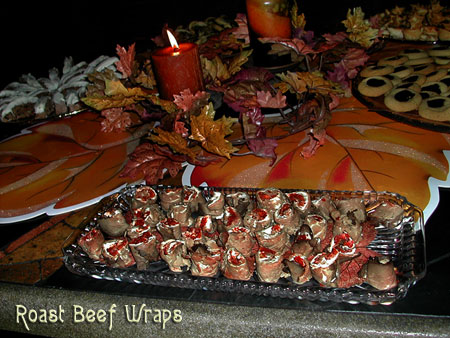 Comments (0) | November 13, 2006
I wanted to do something different than the standard ham roll ups, so I created this savory treat.