This was based on a dish my mother used to make*. It's become a comfort meal for us and a favorite of my husband. It's a fusion of flavors from savory chicken with rice & pasta, to the creamy coolness of diced avocado and the spicy zest of the salsa. This is a hearty dish that satisfies!
Ingredients:
4 Tablespoons butter
1/2 cup uncooked whole wheat vermicelli broken into 3/4″ pieces
1 cup uncooked rice
3 cloves garlic chopped fine
4 green onions chopped coarse
20 oz chicken stock
13 oz canned white chicken breast
9 oz chopped green chilis
1 cup shredded cheese, Mexican blend
4 avocados
Salsa
Melt the butter over low heat in a large lidded pan and add the vermicelli.  Cook until the vermicelli starts to brown, stirring frequently. It's very easy for it to burn if left unattended.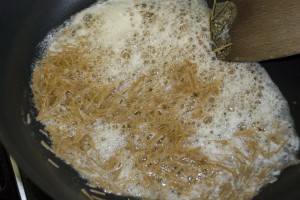 Add the rice, garlic and green onions and stir until well mixed and the garlic starts to be fragrant.
Carefully add the broth to the mixture and bring quickly to a boil. Turn the heat down to low and cover. Simmer for 20 minutes.
Start checking the pan as you get to the 2o minute mark to make sure that the mixture hasn't cooked dry. Add the chicken and chilis and cook until everything is warmed.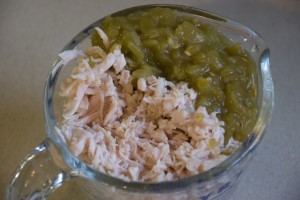 Turn off the heat and add the cheese. Stir thoroughly.
In bowls, cut and chop the avocado into bite-size pieces. Place a generous helping of the rice, chicken and cheese mixture on top. Spoon a little of the salsa on top and enjoy!
*When my mom used to make this, we just used rice-a-roni.